"When I step into this library,
I cannot understand why I ever
step out of it."
- Marie de Sevigne -

"I have always imagined Paradise
will be some kind of library."
- Jorge Luis Borges -

(i am the circle)
and the circle is me)

want a personalized list of book recommendations? click ask & tell me about what you've been reading lately / what you'd like your list to cover. i'll then make you a list of at least ten books with short descriptions and (hopefully) links to longer reviews by me. i'm a children's librarian so kids'/YA books are my strong points, but i'm more than happy to give adult books a shot, too.

http://emfailephant.tumblr.com/
Theme "Blue Moon" Themed by JadoreAmour-Kaith
Book Review: You're Finally Here!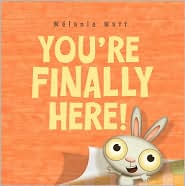 Rabbit is SO SO SO happy to see you he can barely stand it.  But he isn't excited for long - soon he is demanding to know where on earth you were and WHY you weren't with him??
A delicious follow-up to the Scaredy Squirrel series.