Book Review: The Twin's Daughter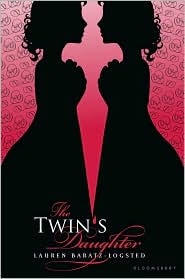 When the doorbell rings one day at the Sexton household, thirteen year old Lucy answers it herself, grumbling that her household servants never do much around the house. Standing on the doorstep is her mother, dirty, disheveled, and looking wholly not herself. But the woman is not her mother.

It seems that Lucy's mother has a twin sister who, after being separated from both her parents and her sibling at birth, was sent to an orphanage and then a workhouse. Her whole life, Helen Smythe never knew she was meant to be a society woman, living in rich luxury and with an identical twin sister.

Aunt Helen is quickly adopted into the Sexton household, and lessons begin to change her into the woman she was meant to be. Despite her lack of any formal education, Helen learns very quickly and soon is deemed ready to be presented to Society by Lucy's parents.

After Aunt Helen's arrival into Society, life begins to change very much for young Lucy. With her aunt an official member of the household, Lucy is no longer allowed to think of her as a younger sister who needs to be shown the simplest things, or a schoolmate. Still, their relationship is much more open than Lucy's with her mother, and Lucy is pleased for her aunt's presence in the Sexton household.

A rousing New Year's Eve party brings Lucy further into adulthood as she receives her first kiss from the boy next door, Kit, and on New Year's Day the budding couple goes for a cold stroll in the park. When Lucy arrives home, her house is uncharacteristically silent and she immediately knows something is wrong. Making her way from room to room calling for her parents and aunt, Lucy becomes more and more worried about the silence in the house. When she opens the door to the back parlor, all she sees at first is red.

Mother and Aunt Helen sit in straight-backed chairs, tightly bound to each other. One of their throats is cut.

Lucy's mother raises her head and looks, terrified and confused, into her daughter's eyes, and nothing is ever the same again.

Some spoilers within:

When I read, I pointedly do not want to predict anything that's going to happen with any sort of seriousness. I read books for the experience of sucking myself in to the story, completely losing myself in the amusingly, usually stupid actions of the characters without taking note of anything about the plot other than the plot itself. So, while reading The Twin's Daughter, I logically should have tossed the book down in frustration, angry that the Sextons were so wildly ignorant about Aunt Helen's blindingly obvious devious behavior. From the very first page, predictions started flying at me a mile a minute, partially framed by the inside cover, which promises intrigue, deceit, twists, turns, betrayal, jealousy and treacherous secrets.

Perhaps the Sextons' ignorance was what drew me in, kept me reading; perhaps it was the thought that the book couldn't be that easy to predict. But I know one thing for sure – Lauren Baratz-Logsted's writing was the glue that cemented this book as the most refreshingly dramatic, twisty mystery I've read in quite some time. And let me tell you now, it did NOT end the way I thought it would, even after several revisions of my initial prediction.

One of the many strengths of Baratz-Logsted's writing in this book is the subtle intricacy of her descriptions of life as Lucy Sexton. What many young adult readers may consider stupidity or ignorance on the part of Lucy, the more mature audience will see as expertly woven historical details about the sheltered life of a Society child. For example, the night Lucy begins menstruating for the first time; she immediately attributes it to the many other changes occurring with her body. In fact, Lucy's simple narration of her pubescent changes may be the most honest and accessible I've read in a book yet. Not many other historical fiction novels that I've encountered discuss menstruation; let alone what one does during such an event without modern, er, accoutrements.

A few more aspects of The Twin's Daughter I loved and will briefly list in no order, rather than babble on about for ages: the negative-space cover, Lucy's slow-moving, sarcastically humorous relationship with the dashing camel rider Kit, the way she does not refer to her father as anything but "my father" until his death (after which she calls him Father for the rest of the book), Aunt Martha's character development, the letters between Lucy and Kit while he is in Egypt, Lucy's stint on the couch staring out the window after she learns he is injured, the trapdoor and tunnel between their two houses, Lucy's reaction to overhearing what she does not understand is her father and aunt having sex, and, of course, the denouement.

In short, (though this review, like others of books I've just finished and am high off of, is anything but), Lauren Baratz-Logsted is pushing her way toward being one of my favorite young adult authors. (The only other book of hers I have read is Crazy-Beautiful, a rich and gripping romance (I recommend it!).) My library owns a few of her adult titles, and once my to-read stack starts getting a little shorter, I will definitely be picking one up.
(Source: librarything.com)